First off let me say I'm not getting paid to write this, I have never hosted a Pampered Chef Party before, nor am I a paid Pampered Chef Consultant.
This weekend I hosted a Pampered Chef Party. I have attended many different types of demonstration parties in the past, but I have never hosted any of them. This summer my sister-in-law held a Pampered Chef Party and since I do love their quality products I decided after some thought that I'd give it a go and maybe get the benefits from throwing a party myself. It just so happens that in the month of October I will receive 60% of two stoneware items, cash amount for free items that is a percentage of the sales from my show, and 20% off anything else I purchase. The offers change with each month.
If you have ever hosted a Pampered Chef Party you know the consultant demonstrating the products will make one entrée and one desert.  Because of timing, they need to be microwaveable dishes.   You may go on the website and request your dishes or the consultant can give you some suggestions to pick from.  Being a little on the anal side about food served in my house (okay I know my family is rolling their eyes…a lot anal), I went onto the website and selected what I thought would work well with my guests.
I picked the Easy Tortellini Toss with Ham and Spinach and the S'more Cake.  The Consultant will give you a grocery list of items you need to have on hand for her.  My consultant supplied a few items toward the entrée and all the ingredients that went into the desert.  If you want, you can just go with the food made by the Consultant, but being me, I had to supplement with a few of my dishes; some recipes coming from the Pampered Chef website.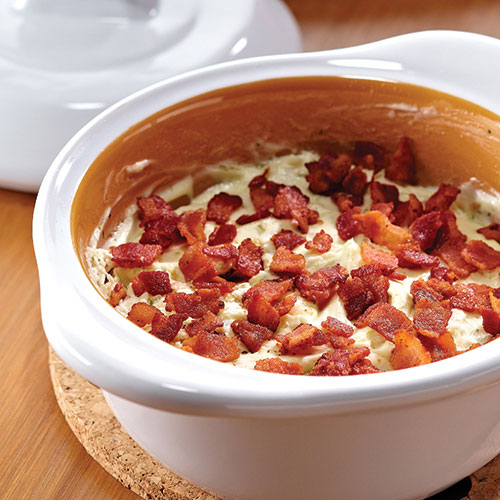 It ended up being a gorgeous fall Saturday.  I really got into the spirit of the season.  I decorated my table on the glassed in porch in a fall theme with a burnt orange table cloth, gourds, fall flowers in black and gold vases, and of course a glass pumpkin filled with the classic candy corn.
For an appetizer I made brie with a peach pecan jam wrapped in a Pillsbury Crescent Seamless Roll.  With the extra dough I used the Pampered Chef autumn cutters and made leaves and pumpkin designs to put on top.  It was baked in the Garlic and Brie Baker which is a covered ceramic baker perfect for heating and serving brie, for warming dips, and for roasting garlic.  You can find this baker along with the other items mentioned on the Pampered Chef website.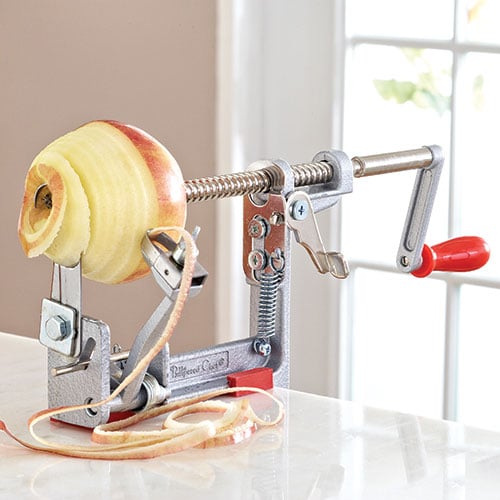 In addition I made an easy BBQ Chicken in my Crockpot for Sliders, Panzanella Salad, Cranberry Coleslaw and Homemade Chunky Applesauce. I used the Apple Peeler on its own Wooden Stand which makes preparing this dish a snap. You can find my Apple Sauce Recipe and Cranberry Coleslaw archived under recipes on this site.
| | | |
| --- | --- | --- |
| Click the Image |   | Click the Image |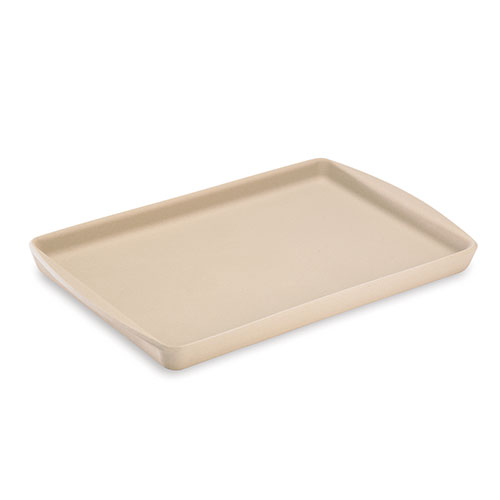 My contribution for deserts was a Kentucky Butter Rum Cake (found on Pinterest), Sugar Cookies, Gingersnap cookies with a Pumpkin Fluff, and the Pampered Chef Pumpkin a la Easy Recipe, made in the Large Bar Pan.   (I had guests who could not eat chocolate and I wanted something special for them).
Other Pampered Chef Products Available on Amazon.com
Pumpkin Pie a La Easy Bars
1 1/4 cups all-purpose flour
3/4 cup quick or old-fashioned oats
1/2 cup packed brown sugar
1/2 cup pecans, chopped
2/3 cup butter or margarine, melted
4   eggs
2 cans (15 ounces each) solid pack pumpkin
2 cans (14 ounces each) sweetened condensed milk (not evaporated milk)
2 teaspoons ground cinnamon
1 teaspoon ground ginger
1/2 teaspoon ground nutmeg
1 teaspoon salt
Thawed, frozen whipped topping (optional)
Pecan halves (optional)
Preheat oven to 350°F. In Classic Batter Bowl, combine flour, oats and brown sugar.
Chop pecans using Food Chopper. Add to Batter Bowl.
Melt butter in Large Bar Pan on HIGH 1 minute or until melted.

Add to dry ingredients; mix well.

Press mixture onto bottom of Large Bar Pan. Bake 15 minutes.
Meanwhile, lightly beat eggs in Batter Bowl using Stainless Whisk.

Add pumpkin, sweetened condensed milk, spices and salt; whisk until smooth.

Pour over crust. Bake 30-35 minutes or until filling is set and knife inserted in center comes out clean.
Let cool at room temperature.
Garnish each serving with whipped topping using Easy Accent® Decorator, pecan halves and additional ground cinnamon, if desired. Refrigerate any leftover pie squares.
Yield:  24 servings
Nutrients per serving:
Calories 230, Fat 11 g, Sodium 200 mg, Dietary Fiber 2 g
U.S. Diabetic exchanges per serving: No information is currently available.
This recipe can be made in the Square Baker. Divide ingredient amounts in half and bake as directed. Yield: 12 servings
Be sure to purchase canned pumpkin, not pumpkin pie filling, for this recipe.
You can substitute 3 1/2 teaspoons pumpkin pie spice for the ground cinnamon, ginger and nutmeg.
Hosting a Party turned out to be a lot of fun and a great way for the girls in the family to get together and spend an afternoon catching up. Our Consultant was wonderful about the fact that there were some distractions among us (cute baby always takes precedence), but she showed us some great products, taught some new techniques, and made some great food.  Thanks to Elisa for making it a fun afternoon.
If you like Pampered Chef and you don't mind hosting a party; you can get some great deals on products you want by being a host.  Give it a try.  It wasn't painful as I once thought it would be….it was actually a lot of fun.
Barb Moyer is the author of columns A Little of This… A Little of That, and Barb's Kitchen Corner on FoodsSource.com